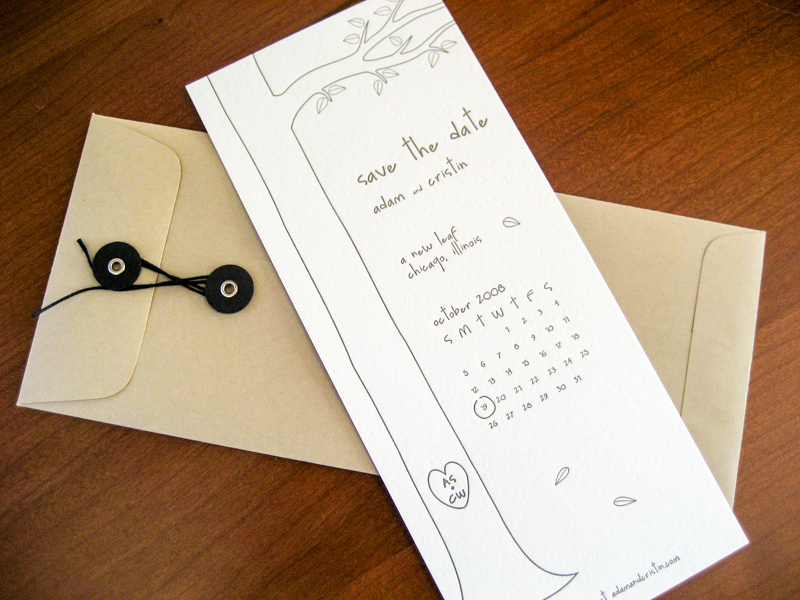 How sweetly romantic is this save the date wedding announcement for Cristin Witcher and her fiance Adam Siegel's fall Chicago nuptials?
Adam designed the whimsically simple letterpressed announcement and matching tree branch mailing labels using The Giving Tree
as his inspiration, a book that has special meaning to the couple. Their wedding website URL at the bottom of the card provides guests useful information about hotels, logistics and registry.
I love that the concept is so versatile. Use it for summer and spring weddings and showers by coloring the mailing label and invitation leaves in shades of green. Change the text for a children's birthday party invitation with an eco-friendly theme.
Cristin and Adam have graciously shared their tree template here at Merriment for free with the request that anyone using the template post a comment below or email me to track its usage.
Supplies: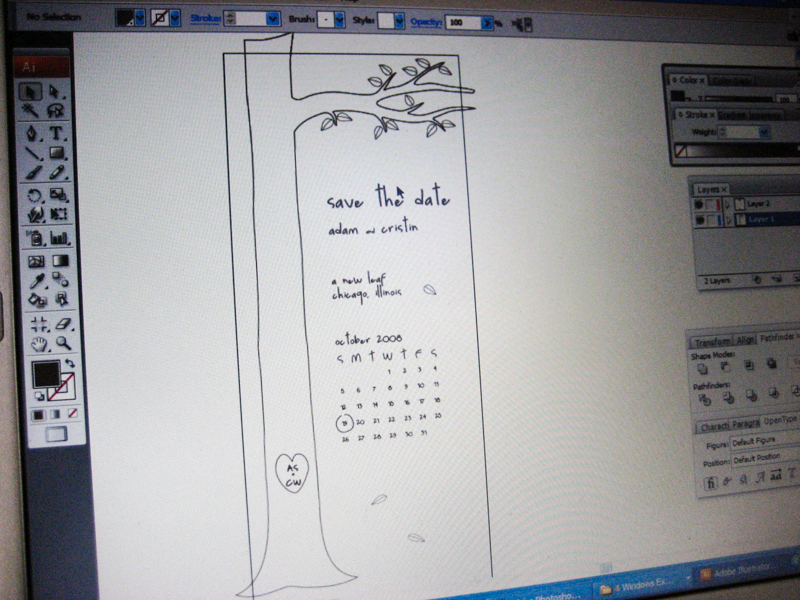 Download Cristin and Adam's free template. Open in Adobe Illustrator
to edit the file (if you don't have Illustrator and need help please email me or post a comment below).
Cristin and Adam had their announcements letterpressed. If printing yourself, adjust the file to print multiple announcements onto 8 1/2″ x 11″ paper and trim to size using your paper trimmer. Place in envelopes and seal.
Enter guest names into the Word document template and print in color on the Avery labels. Cristin says this was the hardest part of the whole deal. You'll want to buy some extra labels to give yourself wiggle room to ensure it lines up cleanly. Cut labels on lines using your paper trimmer.
Be sure to dress it up by creating personalized postage at PhotoStamps.com
. Custom stamps make a big difference so ask me questions if you need help.
Cristin and Adam are getting married the same weekend where Shane and I did at A New Leaf. They're in for a treat. It's a great space, especially in the fall. Congratulations, Cristin and Adam, and many thanks to you both!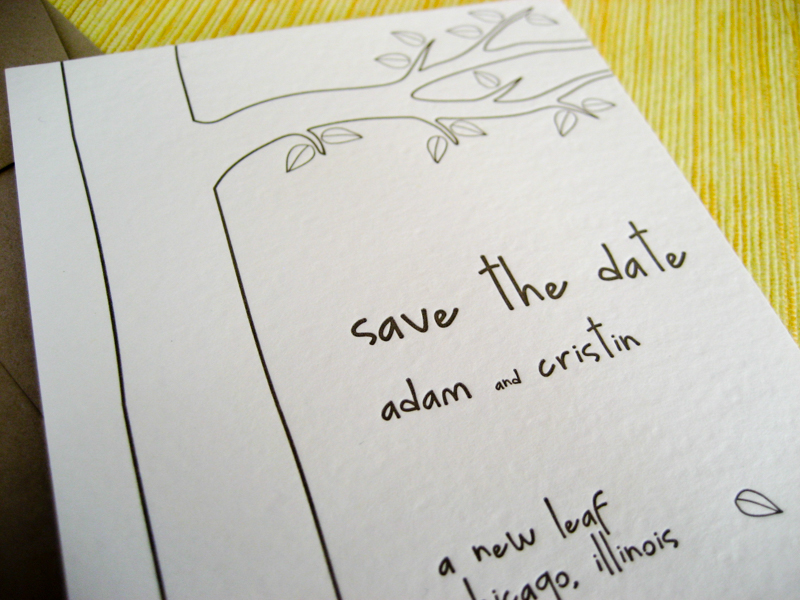 COPYRIGHT NOTE: You're more than welcome to use this project and pattern for your own personal use. Please post a comment below or email me if you use the template so that Cristin and Adam can track its use. Like this free project? See more in our weddings category.